Yorkshire celebrations to mark royal wedding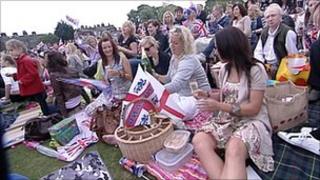 Thousands of people across Yorkshire have joined events to mark the wedding of Prince William and Kate Middleton.
Dozens of street parties were held, including one in Meadowcroft in Whiston, Rotherham, where houses were dressed in colourful bunting.
People in Ilkley gathered for a town celebration with proceeds going to the British Heart Foundation.
Elsewhere, the Lord Mayor's residence in York, Mansion House, was opened for people to watch the wedding.
A big screen was erected in the state room and a band of musicians played.
Big screens
Claire South, party organiser in Whiston, said the street party created a "neighbourly spirit".
She said: "I'm romantic at heart and I like to celebrate weddings... but I thought it would be great to get all the neighbours together to have a general party and a nice time."
Neighbours in Hedon, Hull, also gathered for a street party.
Resident Jane McDonnal said earlier: "We've blocked the road off, put all the marquee up with all the trimmings, we've done all the flags around the houses.
"It's just something we do round here, we like to do things big."
In Leeds city centre, well-wishers gathered to watch the royal occasion on the BBC's big screen in Millennium Square.
The Parkin family from Mirfield said: "We would normally watch it at home but we thought it was worth coming to Leeds to make it a special day for the kids."
Elsewhere across the city, hundreds of people turned out to Victoria Park, Calverley, to witness the historic moment on a big screen.
Zandra Moore, organiser, said: "This park was donated by Queen Victoria for her jubilee and I think this community here enjoys the Royal Family and the celebrations around the Royal family."