Aston Villa boss Gerard Houllier leaves hospital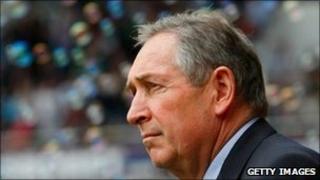 Aston Villa manager Gerard Houllier has been discharged from hospital, eight days after being admitted with chest pains.
Caretaker boss Gary McAllister, who is expected to be in charge until the end of the season, said there was "no rush" over a decision on Houllier's future.
He said "a lot of decisions" had been made over players.
Houllier, 63, was admitted to the Queen Elizabeth Hospital on 20 April and discharged on Thursday night.
'Down the line'
He previously had major surgery after suffering heart-related problems in 2001 when he was manager of Liverpool.
McAllister said: "Can Houllier return to management? That's the big question down the line.
"That will be after he speaks to friends, family and people he respects but, most importantly, the doctors.
"There's no rush to be made on that decision."
Dr Mark Waller, the Villa doctor, has said the manager's chest pain had been caused by a dissection of the descending aorta.
McAllister said there was a plan to move forward which was "already there".
He added: "As much as it would be ideal if Gerard was here, it can be done from his home because we're down the line on a few things.
"I don't have to give anything away.
"But I'm talking about people that might want to come here, people we want to try and attract here, people that want to stay, people that might have to find a club...
"Whether it be attracting new players, or players coming to the end of their contract, a lot of decisions have already been made."
McAllister said Villa knew the positions where the club was strong, but also knew "where we need to strengthen".
In a statement, Houllier has said he was touched by all the messages he had received and praised the care he had received at the hospital.