Royal crowd fills Marple Bridge village street party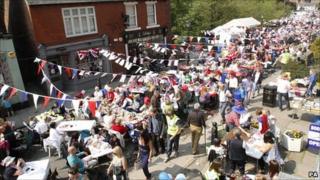 The picturesque village of Marple Bridge came to a standstill for one of the biggest royal street parties in the north west of England.
About 800 people filled union flag-draped tables along the high street, which had been closed to traffic by Stockport Council.
Organisers said they could have sold "1,000 more" tickets for the event by the River Goyt.
Hundreds of street parties are believed to have taken place across the region.
Karl Guare, chairman of the Marple Bridge Association, said the marriage had captured people's imagination.
He said: "I think it's a feelgood factor. We have had doom and gloom for the last three years with the economy.
"Everything that can go wrong has gone wrong and now people have got a chance to party. There's a buzz about the whole thing."
'Doom and gloom'
Revellers brought their own party food and drinks while stalls sold everything from Champagne and strawberries, to cupcakes and a hog roast.
At 1400 BST, a huge cheer erupted from the crowd as Barbara Hayward, sub-postmistress at the Marple Bridge post office, gave a toast to the couple.
Mrs Hayward, 50, who dressed as the Queen, said: "It's just brilliant. The number of people that have supported it.
"It's a wonderful occasion for people to come together and to forget about all the doom and gloom."
Revellers sang the national anthem after the toast, followed by Land of Hope and Glory.
Amanda and Mark Jones attended with their sons Lorcan, three, and six-year-old Theo.
Mrs Jones, 42, said: "It's something for the children to remember. They watched the wedding on TV this morning and loved the horses and all the pomp and ceremony of it all."
Among the other attendees were Roger Tripp, 66, and his wife Jean, 62.
He said: "The wedding went really well. It seemed relaxed and not too stuffy.
"I think it's a wonderful community occasion and a great atmosphere."
Proceeds from the street party are being donated to the armed forces charity Help for Heroes.