Colchester MP Bob Russell's painful mishap in Afghanistan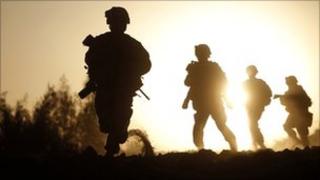 He's made the journey several times but on this occasion Bob Russell's trip to Afghanistan delivered a little more than he bargained for.
During his last trip to Camp Bastion earlier this year the Lib Dem MP for Colchester decided to take up a challenge, given to certain visitors, of cutting through a metal pipe using an oxyacetylene torch.
You can guess the rest...
"I burned my hand a bit but that was all right - then three splatters burned through my boots, even though I was wearing two pairs of socks," he tells me.
"It all seemed to be healing OK until I came home when I didn't like the look of one of the burns, which didn't seem to be healing. So I had to go and see the doctor in the House of Commons."
I didn't know there was one...
The long-suffering Mrs Russell sighs: "He had a hole in his foot."
"Anyway it's all better now," the Voice of Colchester tells me.
He's fighting fit ready for his next visit; perhaps next time the 65-year-old MP will give the high jinks a miss.