Inquests into Royal Marines' Afghanistan deaths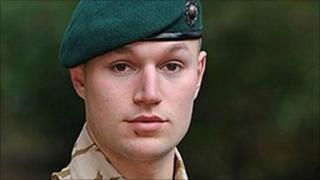 Inquests have been held into the deaths of two Royal Marines killed in Afghanistan.
Marine Matthew Harrison, 23, of Hemel Hempstead, Hertfordshire was wounded in a firefight on 13 July last year.
Cpl Christopher Lewis Harrison, 26, of Taunton, Somerset died on 9 May 2010 in an explosion while on foot patrol.
Hertfordshire coroner Edward Thomas recorded verdicts that both men were unlawfully killed while on active service.
The inquest into Mne Harrison's death heard he was "a fun young man" killed the day before his 24th birthday.
Single bullet
Mne Harrison, of 40 Commando, was part of a team manning a vehicle checkpoint in the Sangin district of Helmand Province that came under fire, just as an order was being given to withdraw.
A single bullet went through the soft part of his body armour, missing the protective plate.
It entered his chest, went through his liver and then exited his body through his back.
Forensic examinations showed it could have come from an AK47 rifle.
Comrades dragged him back to his patrol base where medical treatment was given and he was stabilised.
The inquest at Hertfordshire Coroner's Court heard the ongoing firefight meant it was too dangerous for a helicopter to land, so he was taken by quad-bike to a forward operating base.
'Brave man'
From there he was flown by a US helicopter to the Camp Bastion field hospital, but his condition deteriorated during the flight and he was pronounced dead soon after arrival.
Mr Thomas told Mne Harrison's family: "He was a brave man. He was serving his country and he was serving it well.
"I've already said I cannot imagine how awful this must be for you and for all of you to have lost a fun young man."
The inquest into Cpl Harrison's death heard he was an "exceptional" Marine.
He died after an improvised explosive device (IED) was set off in Sangin.
'First-class person'
Forensic pathologist Dr Nicholas Hunt told the hearing: "Christopher died of blast injuries caused by an explosion. They were non-survivable."
He added that the IED hit his thigh area and killed him instantly.
Major Mark Totten, the officer commanding Bravo Company, 40 Commando, said Cpl Harrison had died during an operation to provide security for a vehicle check-point to be established.
Restricted manpower had meant that Cpl Harrison was given responsibility for a group of troops.
"This was his first time, I believe, as a section commander on the ground," he said.
Paying tribute to Cpl Harrison, he said: "He was an exceptional Royal Marine junior leader."
The coroner said: "He served his country. He had been a marine for many years.
"He was obviously a first-class person, that is the best way of describing him."