Sussex soldier who helped injured comrade honoured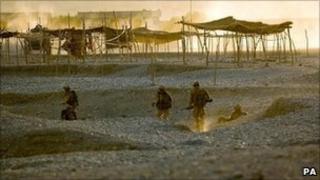 A Kent-based soldier from West Sussex who braved enemy fire to rescue an injured comrade in Afghanistan is to receive the Military Cross.
Corporal James Bedford "undoubtedly saved life whilst risking his own" in a gun battle in Helmand province on 10 June 2010, according to his citation.
The 29-year-old from Littlehampton was commanding a six-man Royal Engineer search team when they were fired upon.
He then placed his body between two casualties and the incoming enemy fire.
Cpl Bedford, who is based at the Royal School of Military Engineering in Chatham, then administered "life-saving first aid" to the most seriously injured soldier and directed others to help the second casualty.
'Courageous action'
The team had been serving with the counter-improvised explosive device task force in the Nahr-e-Saraj district of central Helmand when the incident took place.
The Ministry of Defence (MoD) said when the gun battle broke out Cpl Bedford ran towards the casualties in full view of the enemy and without covering fire.
One bullet hit the equipment on Cpl Bedford's back and another narrowly missed his head before he carried the stricken soldier to safety.
His citation reads: "Bedford's swift and courageous action undoubtedly saved life whilst risking his own.
"He demonstrated clear thinking and exceptional leadership under accurate fire from a determined enemy, thereby ensuring the recovery of his exposed team members."
Cpl Bedford, who is married with two young children, said: "Getting the award was a complete surprise, I really hadn't expected anything like that."
When he was asked about his equipment being hit by a bullet, he added: "I was more concerned about my colleague really."
But he said his wife Rachel had mixed feelings about the actions that led to his award.
Cpl Bedford said: "She was really happy for me but I hadn't told her about the incident, when she heard that she gave me a clout round the head."