Boy charged with Florida murders of British tourists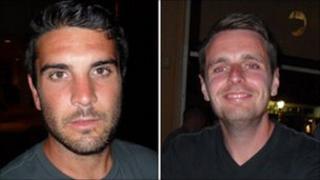 A 16-year-old boy has been charged with murdering two British tourists in Florida.
Shawn Tyson was arrested over the murders of James Cooper and James Kouzaris in Sarasota, in April.
He has been charged as an adult on two counts of first degree murder. The trial is expected within the next 18 months.
Mr Cooper, 25, of Warwick, and Mr Kouzaris, 24, of Northampton, were shot dead in in the Newtown area.
The authorities in Florida had previously admitted they were wrong to release Shawn Tyson after a previous offence, hours before he allegedly shot and killed the two friends, who were on holiday in the area.
'Danger to public'
He had been held after shots were fired at a car on 7 April and a judge said he was concerned the boy posed a danger to the public.
His warning was not passed on to a second judge who released him on 15 April.
Mr Cooper and Mr Kouzaris were killed a day later.
The Mayor of Sarasota, Kelly Kirschener, said it was a "significant failure"
"The state prosecutor's office has already said that they will ensure nothing like that will ever happen again," he said.
Shawn Tyson has already been charged over the alleged firearms incident.
Mr Cooper and Mr Kouzaris, who met at Sheffield University, had been holidaying with Mr Cooper's parents 12 miles away on the island city of Longboat Key.
They were last seen drinking in bars in downtown Sarasota and police now believe they walked to the Newtown area of the city, where they were robbed and then shot several times.
It is not clear why the two men had visited that part of town.