East Midlands Airport unveils two new wind turbines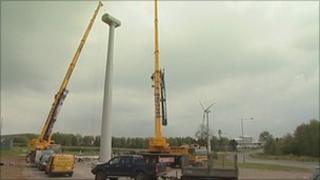 Work on two 45m (148ft) wind turbines at East Midlands Airport has been completed.
The turbines, thought to be the first at a UK airport, are part of a project to make ground operations at the site carbon-neutral by 2012.
It is hoped the turbines will generate 5% of the airport's electricity, enough to power 150 homes.
Permission for the turbines, which could save 300 tonnes of carbon emissions each year, was given in 2008.
Neil Robinson, director of sustainability at East Midlands Airport, said: "The turbines will be installed for 20 years and we see it as a significant investment for the airport and the environment."
He added that more than £4m would be invested in projects such as a willow farm to provide fuel for a bio-mass boiler in the terminal building and a dedicated recycling zone at the airport.