Norman Lamb admits feeling 'bruised' by Lib Dem collapse in East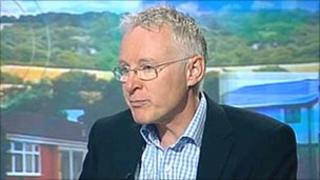 Norman Lamb is feeling "bruised", he admits ruefully.
After this week's elections the political landscape in Norfolk has changed.
The MP for North Norfolk watched as 12 Lib Dem seats were lost on his home council and the Conservatives celebrated a notable victory.
He acknowledges his responsibility.
"I'm not saying I deny responsibility. I am part of the government. I have to take responsibility for this and it's a very sad time for us. There are some very committed councillors who've lost out."
The Clegg factor
Nick Clegg's adviser has spoken to his boss about the loss: "He told me he was sorry about North Norfolk."
Of course, Nick Clegg also watched as his home council on Sheffield was wrenched from the Lib Dems' grasp. His Deputy Leader of the Lib Dems, Simon Hughes, was quick to point out that Nick Clegg was "the issue".
In contrast, Colchester was the only place in the region where the Lib Dems held all their seats, and with increased majorities. Its Lib Dem MP, Bob Russell, has been a thorn in the coalition's side and he thanked the people of Colchester for their support.
Mr Lamb is quizzical: "Politics is so tribal in this country that it is almost impossible to actually function in a coalition at all. It's as if people simply don't understand us in an existential way."
"What's happened in North Norfolk is that the Labour vote's gone up and that has let the Tories in. The vote against the coalition is being directed at us. We are the human shield for the Conservatives."
Coalition risks
But wasn't that always going to be the case? It was a risk going into a coalition in the first place - a risk that it could wipe out the Lib Dem party in the longer term?
"The case for the coalition was to stabilise things at a very, very difficult time. There could have been an economic crisis. We have created the conditions for the recovery, we are taking the flak -the Conservatives haven't been damaged by this."
"All the flak is coming to the Lib Dems but the obituary of the Lib Dems has been written many times."
He acknowledges, though, that the Lib Dems imploding is a real possibility, particularly if they cannot make the case for what they are achieving in the coalition.
"That's what the public doesn't see - how much every day that we are fighting over in the coalition and how much we are achieving,"
For a party that has been out of government for 60 years, losing its local government base that's taken generations to build, could be a salutary experience.