The coalition's impact on the North of England a year on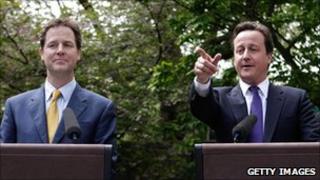 A year ago, David Cameron and Nick Clegg stood in the sun-bathed garden of Number 10 to usher in the UK's first coalition government for 65 years.
Of course, since then it's been no bed of roses, and Nick Clegg in particular looks a little frost-bitten.
But just what impact has the coalition had on the north in the last 12 months?
'Cautious optimism'
There has been some good economic news.
The Redcar steelworks was sold to Thai company SSI and will reopen with hundreds of extra jobs.
Hitachi will be siting a train factory in Newton Aycliffe creating hundreds more.
The Government's Regional Growth Fund is putting £50m into companies that promise to create thousands of jobs in the North East.
Two enterprise zones will also be created in the region.
And the North East Chamber of Commerce reported cautious optimism amongst its members in a survey last month.
Unemployment concerns
But unemployment has risen, with the North East having the worst jobless rate in the country.
While the national rate of joblessness fell by a small amount in the last quarter, it actually rose by 10% in the North East.
And that's before most public sector job cuts have even hit.
One estimate by Durham University suggests 50,000 jobs could go over the next five years, with the private sector struggling to expand enough to replace them.
Some lower income families did benefit from the raising of tax thresholds, but the rise in VAT to 20% may have cancelled that out.
Council cuts
It's been a tough 12 months for the north's councils too.
Local authorities such as South Tyneside, Sunderland, Middlesbrough, Copeland, and Hartlepool were amongst the worst hit by cuts.
And while some councils in the south increased their spending power, all of the North East and Cumbria's councils lost out.
Even Conservative and Liberal Democrat council leaders in places like Cumbria, Stockton and Newcastle condemned the cuts as being unfair.
On a positive note though, at least council taxpayers aren't forking out any extra money as every authority froze its rate thanks to incentives from the government.
New investment?
Other public spending cuts have also hit though. Hundreds of jobs are going in all our police forces.
And so far the North has struggled to get investment into its roads.
None of the projects approved by the government was in our patch, and vital investment in the A19 junctions south and north of the Tyne Tunnel is at least five years away. The dualling of the A1 north of Newcastle doesn't look imminent
The Government did though confirm big investments in the Tyne and Wear Metro and in bus routes in Teesside, although both were planned by Labour.
It will also be investing in improvements on the East Coast Main Line. And it's promised that a new High Speed rail route will benefit the region even though it'll only go as far as Leeds and Manchester (it's also 20 years away).
School report
Some of our schools suffered an early hit when the Building Schools for the Future programme was halted, and they are still waiting to hear what the government plans to do to ensure their buildings can be replaced.
Many schools are now looking to apply for academy status, something which will see them leave local authority control.
Our universities are also preparing for a brave new world too - one that will cost their students tuition fees of at least £8,400 per year, with Durham and Newcastle charging the maximum £9,000 from 2012.
Labour heartland
And politically, both coalition parties have suffered electorally in the region. The Lib Dems lost control of Newcastle, and aside from North Yorkshire, the Conservatives also lost seats.
The North East in particular is now more Labour-dominated than ever.
It's certainly not been a quiet year then, and with reforms of the NHS, police authorities and planning policy ahead, there appears to be no let-up.
And despite some unhappiness in sections of both parties, the coalition looks likely to last for some time to come.