Stoke City fan postpones wedding to watch FA Cup final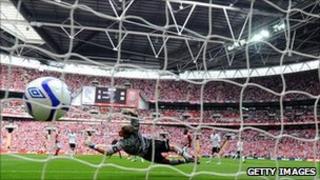 A Stoke City fan has postponed her wedding in order to watch her club in its first FA Cup final at Wembley.
Suzanne Dono, 29, from Stoke-on-Trent, spent up to £3,000 ensuring her wedding to Steve Wakefield on 14 May would reflect her team's football colours.
The committed Potters fan said she "had to" postpone the wedding as she had been a life-long Stoke City fan and had only known her fiance for three years.
Stoke City is due to play Manchester City at Wembley on Saturday.
The couple plan to reschedule their wedding for a date in August.
Cancellation fees
Ms Dono said: "It just had to be done.
"Steve doesn't understand, he's not a football fan."
She said she cancelled the register office and wedding reception while he was at work one day, but has yet to secure a ticket for herself for the Wembley final.
If she cannot get a ticket she said she planned to watch it at home on the TV and to host a barbecue for their friends instead.
The cancellation has only cost £20 in administration fees, the mother-of-two said.
"I've been warning people for a while that if we did get to the final I would cancel.
"I've been saying it for a long time, since before the semis. I said we were going to win, so I did have it in the back of my mind that we would have to cancel."
She said she was confident though that Steve would not stand her up when they eventually rescheduled the big day.