Milly Dowler's friend 'last to see her alive'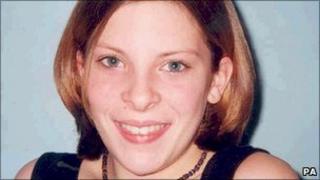 A friend of schoolgirl Milly Dowler was the last person to see her alive before she was abducted from the street and murdered, a court heard today.
The 13-year-old disappeared nine years ago while walking home from school in Walton-on-Thames, Surrey. Her remains were found six months later.
Levi Bellfield, 42, formerly of West Drayton, west London, denies murdering and kidnapping the teenager.
The Old Bailey heard a schoolfriend of her sister Gemma saw her walking home.
Katherine Laynes, who was 15 at the time, made eye contact with Milly moments before she vanished.
'Eye contact'
Brian Altman QC, prosecuting, said Milly had gone to a cafe at Walton-on-Thames railway station after leaving Heathside School in Weybridge on 21 March 2002.
Katherine was sitting at a bus stop in Station Avenue when she saw Milly walking alone, wearing her school uniform and carrying her rucksack.
Mr Altman said: "She thought she was at the stop for about 10 minutes when she saw Milly Dowler walking along on the opposite side of the road.
"According to Katherine, they made eye contact."
Mr Altman said Milly walked to Katherine's left, crossing the entrance to the station car park.
But she lost sight of her when the advertising board side of the bus shelter obscured her vision.
Katherine's bus arrived at the stop within a couple of minutes of Milly disappearing from her view, Mr Altman said.
"The older girl boarded her bus and was the only passenger on board.
"As the bus moved off, she expected to see Milly again in Station Avenue, continuing her walk.
"So she looked out for her on the same side she had seen her walking, but she wasn't there."
Blunt instrument
The Old Bailey has heard Bellfield, a former wheelclamper, had rented a flat "literally just yards away from the spot where Milly was last seen alive".
On the day of Milly's disappearance, Bellfield's partner Emma Mills and their two children were staying elsewhere at a friend's house.
Bellfield had been out of telephone contact but he later turned up at the friend's house and went to bed, Mr Altman said.
But between 0300 and 0400 BST, he got up and left with his Staffordshire bull terrier.
The court heard Milly's uncle, Brian Gilbertson, began his own search for his niece by torchlight in the early hours of Friday morning.
He said he saw a man of Bellfield's description with a dog walking towards a bin shed at the block of flats in Collingwood Place, near where Milly was last seen and where Bellfield lived.
Mr Altman told the jury: "You can conclude that the man Mr Gilbertson saw in the early hours was the defendant who had returned with the dog.
"If the prosecution is right that he abducted and killed Milly Dowler, then he had to dispose of her body and clean up."
Later that day, Bellfield asked a friend to help him move a king-size mattress from his flat.
Mr Altman went on to tell the court that Miss Mills said she went to the flat the following day, Saturday 23 March, because Bellfield told her they had to move out.
'Burnt the bed'
In the bedroom, she said the sheets, duvet cover and pillowcases had been removed and only the duvet remained.
The court heard Bellfield told her the dog had had an accident and he had "chucked it all".
Jurors were told Miss Mills had said she remembered that they later decided to get a new king-size bed.
"The defendant told her that he was going to burn the bed they had brought with them from Collingwood Place," Mr Altman said.
"He burnt the bed and the double duvet."
Bellfield denies Milly's kidnap and murder.
He also denies the attempted kidnap of 11-year-old Rachel Cowles in Shepperton, Surrey, the day before Milly disappeared.
Bellfield was convicted at the Old Bailey in 2008 of attacks on women in west London over a period of just over two years.
He killed Marsha McDonnell, 19, in February 2003 and Amelie Delagrange, 22, in August 2004, by striking them on the head with a blunt instrument.
In May 2004, he attempted to murder Kate Sheedy, 18, by deliberately running her over in a car.
The trial has been adjourned until Thursday when the judge and jury will be taken to Walton-on-Thames and Shepperton to view the scenes of the alleged crimes.