Glider pilot killed when wings fell off above Bicester Airfield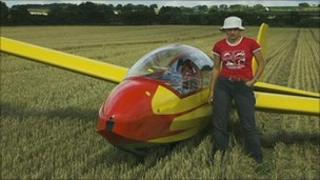 A pilot was killed when a "failed bolt" caused both wings to fall off the glider she was flying, an air accident report has found.
Amy Barsby, 25, died when the Foka 4 glider crashed at Bicester Airfield, Oxfordshire, on 8 August 2010.
An Air Accidents Investigation Branch (AAIB) inquiry said it had "not been possible" to detect the problem with the bolt before Ms Barsby took off.
Ms Barsby, originally from Longridge, Lancashire, was an experienced pilot.
'Wings folded upwards'
As the glider descended from a height of between about 600ft (180m) and 1,000ft (300m), the wings folded upwards and detached from the fuselage.
Her boyfriend, a gliding instructor, was among the spectators as the aircraft came down.
The AAIB recommended new safety measures to ensure there were ways of determining whether the bolt involved - the lower bevel bolt - was properly attached.
Ms Barsby had been taking part in a week-long university gliding competition and regularly borrowed the glider from a friend.
She began gliding in July 2001 and had accumulated more than 226 flying hours in 531 flights.
She graduated from Edinburgh University and was studying at Queen's University, Belfast, where she had been carrying out research into possible causes of cancer.