Milly Dowler trial visits Walton-on-Thames locations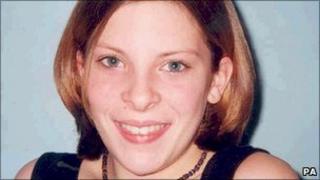 The man accused of murdering Milly Dowler joined the trial judge and jury in the street in Surrey where she vanished "in the blink of an eye".
A line of police officers formed a human cordon around Levi Bellfield, who was handcuffed to a prison officer.
He arrived in Walton-on-Thames in a prison van while the jurors and lawyers travelled from the Old Bailey by coach.
They spent more than an hour retracing 13-year-old Milly's final footsteps from the railway station.
Bellfield, formerly of west London, denies murdering and kidnapping the teenager.
Milly disappeared on 21 March 2002 in Station Avenue, near where Bellfield lived in Collingwood Place.
Bus stop
The jury has been told she had just called her father to say she was on her way home.
The court was reconvened on the site visit at the spot where Milly was last seen by a friend waiting at a bus stop.
The human cordon followed the judge, Mr Justice Wilkie, as he led his mobile courtroom up and down the road.
It then moved into Collingwood Place, with the visit ending in an access road at Copenhagen Way where the prosecution says Bellfield's red Daewoo Nexia car was seen driving away 22 minutes after Milly vanished.
Bellfield, 42, a former wheelclamper and club bouncer, also denies attempting to abduct schoolgirl, Rachel Cowles, 11, the day before Milly's disappearance.
He was convicted in 2008 of murdering Marsha McDonnell, 19, and Amelie Delagrange, 22, and attempting to murder Kate Sheedy, 18.