Group wants assurances over First Great Western service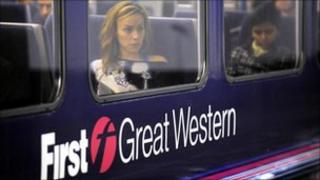 A commuter group is seeking assurances that First Great Western services will not suffer as the firm bids for a new franchise from the government.
The rail group has decided not to take up an option to extend its franchise by three years beyond March 2013 in the hope of securing a longer deal.
Anthony Smith, Passenger Watch's chief executive, said he wanted the company to ensure "standards will not slip".
First said it would continue to provide a "high quality" service.
"We at First Great Western look forward to drawing on our unrivalled expertise and experience to bid for the new Greater Western franchise and continue to develop key projects across our network," the firm said.
But Mr Smith said he wanted whoever eventually runs the franchise to focus on "better value for money, punctual trains and more frequent services".
"Also important are the inclusion of passenger satisfaction targets and repercussions if the train company lets passengers down," he said.
First Great Western runs train services between London, the west of England, south Wales and parts of the Midlands.
First Group was awarded the franchise to run services in the Great Western area in December 2005.
But the company has not always been popular among commuters.
In 2008, the company faced a fare strike by some passengers over claims of high prices, overcrowding and unreliable trains.
A First Group spokesperson admitted then that the firm had failed to deliver an "appropriate level of service".
The Office of Rail Regulation added that punctuality on the line had been "poor for far too long".
At the time, 83% of First Great Western's services were arriving on time compared to a national average of 91%.
The firm's high-speed service is currently on time 88.1% of the time although some of its local services, such as in Devon and Cornwall, are on time in more than 95% of journeys.