The impact of spending cuts on Blackhall Colliery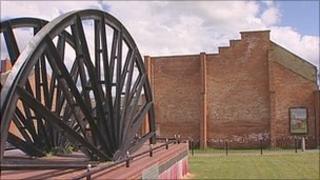 There's been a lot of talk about cuts, but to see their impact, you have to visit a community that's been affected by them.
One example is Blackhall Colliery in County Durham.
It's a place which is used to tough times. Its pit closed 30 years ago, and it has struggled economically since.
But in the last year, it's also been hit by council cutbacks.
Cuts and campaigns
Local councillor Alan Cox fought a campaign to save the village's care home for older people, Glendale House.
He was backed by others in the community who did not want to see the elderly residents moved out.
He lost that fight. A day centre still operates there, but the building is up for sale.
The village youth club also stands empty.
More than £100,000 is needed to repair its roof, and the inside needs even more investment to make it safe.
The council says it can't afford to make those repairs, and the building looks likely to be demolished.
Services under review
Bus routes have also been cut, causing problems for villagers who need to get to work.
And the future of the library is also under review.
Councillor Cox says its closure would be hard to take, especially as it also provides the base for the local Citizens' Advice Bureau.
Durham County Council says it is doing all it can to maintain services in the village.
It says the local Sure Start centre remains open, and it is providing two sessions of activities a week for young people.
It's also looking to invest in new sports facilities and play areas, but it admits Blackhall Colliery has suffered like other communities because the council has to make £125m in cuts over the next few years.
National debt
And Alan Cox certainly doesn't blame his Labour colleagues who run the council. He blames the coalition government, who he believes have unfairly targeted northern councils.
He says: "These cuts are far too severe, far too quick. The coalition has a lot to answer for here."
That's a charge rejected by Councillor Richard Bell, the Conservative group leader in County Durham.
He would like to have seen the Government spread the cuts more evenly over the next five years, but he says they are necessary to tackle the national debt.
And he says the real blame lies with previous Labour administrations for making the North East so dependent on government spending.
He adds: "North East councils have had more grants from the government, so naturally when there are spending cuts they are more affected than southern councils - some of whom haven't had any grants at all in the past."
Rebuild and revive
He's also concerned that Durham County Council hasn't done enough to reduce management costs before making cuts to front-line services.
And there certainly is evidence in a new BBC survey - Making it Clear - that northern councils are making deeper cuts than their southern counterparts in areas such as adult care.
The councils say that's because they haven't got as much money, but Communities Secretary Eric Pickles believes southern Conservative councils have been much better at cutting waste than Labour authorities.
Cuts though are a fact of life now whoever you blame for them.
The task for politicians on all sides is to find other ways of helping communities like Blackhall Colliery rebuild and revive.