Sex and politics make a controversial match in East Midlands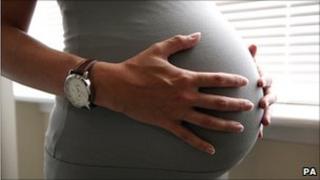 It's a play that evokes memories of top 10 hits by the Shangri-Las. 'Be My Baby' is written by the Nottinghamshire playwright Amanda Whittington.
It tells the story of Mary and her teenage pregnancy and is set on the cusp of the swinging 60s - an era Philip Larkin famously said was "before sex was invented".
Attitudes to sex education and teenage pregnancy have changed over half a century. But attempts by Tory MP Nadine Dorries to teach young girls - between 13 and 16 - to abstain from sex have caused controversy.
"In our sex education programmes in schools, we need to promote the notion of abstinence and all the advantages that it brings, such as self-respect and not making relationship mistakes," she told the Commons.
'Backward step'
But in Nottingham, the city with the highest rate of teenage pregnancies in Europe, there's marked opposition to her proposed new law.
"If we just say no to young people, they're still going to do it. It's just not going to work and we know it's not going to work," says Janet Lewis, Chief Executive of Base 51, an advice centre used by hundreds of city youngsters.
Base 51 offers help and support, including sex advice, to teenagers.
"This Bill is a backward step," she told me.
"It isn't just around just young women. Teenage boys and young men also have got a responsibility in this."
In the East Midlands, just over 3,000 girls between 15 and 17 became pregnant in 2009, the latest year that figures are available. The trend is down.
Nottingham Labour MP Graham Allen led his city's taskforce to reduce teenage pregnancies and is highly critical of Nadine Dorries' approach.
"We've had 10 straight quarters of declining teen pregnancies in Nottingham," he says.
"That's been achieved by treating young people sensibly to become more socially mature. Then, they can make the right choices. Lecturing teenagers as proposed in this Bill is exactly how we got into these problems in the first place."
Yet cases of sexually transmitted infections are up, according to the NHS. The annual total is 31,500 for the East Midlands alone, an increase of 7%.
'Over-sexualised society'
Nadine Dorries, a former nurse, pins part of the blame on our "over-sexualised society".
"It is often argued that compulsory sex education and effective teaching of 'safe sex' will help to tackle a high pregnancy rate among teenagers and underage children. Sadly, the evidence suggests that this is not the case," she told MPs.
Has Nadine Dorries got a point?
I went to Derby Theatre, which is currently staging a production of Amanda Whittington's 'Be My Baby'.
Among the audience was a group of school children from the Da Vinci Community College in the city's Chaddesden district. They're year 10s - the target age for Nadine Dorries' Bill.
"I think it's quite a good idea, although we already do discuss these issues as part of our lessons on ethics and personal relationships," said 14-year old Ashleigh Yardley.
"This measure shouldn't be aimed just at girls. It's not right that boys aren't being included. I think they ought to be."
Nadine Dorries' proposed new law returns to the House of Commons for its second reading in January.
'Be My Baby' and its story of teenage pregnancy may be set half a century ago - but the issues it raises on stage and in Parliament are bang up to date.