BBC Music Video Festival to be shown on UK Big Screens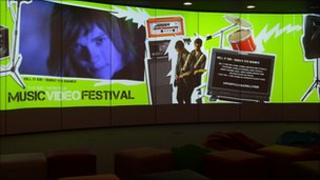 The UK's only dedicated music video festival is to be shown on the nation's network of Big Screens for the first time this year.
The BBC Music Video Festival will be hosted on the screens in 20 major towns and cities in September.
It will feature new and emerging acts and include 30-minute showcases of local talent in each location.
Festival director Gary Standley said: "It's an amazing opportunity for both bands and video-makers.
"They've all made these films and recorded this music because they want it to be seen and heard by as big an audience as possible.
"This is the first time that a lot of these videos will have had national exposure of this kind.
"It's a huge coup to have the Big Screens up and down the country on board," he added.
The BBC Music Video Festival will also appear in Norwich, where it was set up two years ago, on Europe's biggest digital gallery at The Forum.
Top guests
The free daily presentation will be shown every day from 19 September to 1 October 2011, and some top guests will visit the city to provide an insight into their work behind the camera lens.
Jamie Thraves, who has made promos for Radiohead, Coldplay, Blur and most recently Katy B, will talk about his career and share some of his favourite promos.
Jamal Edwards - the 19-year-old founder of the UK's biggest youth media channel SBTV which has been instrumental in singer-songwriter Ed Sheeran's growing popularity - is also heading east to chat about how he got started.
The BBC Music Video Festival has been set up by the team behind BBC Introducing in Norfolk, with the BBC Introducing network recently winning a prestigious Sony Radio Academy gold award for best use of multiplatform technology.
It's hoped BBC Introducing producers at each Big Screen location will help to shape the content of the local video presentations, sharing their top acts tipped for the big time.