Return to business: Coalition faces new challenges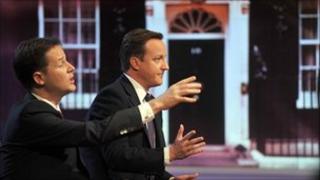 We've had the local elections, the AV referendum and the coalition's birthday party (well, we assume there was a party held somewhere - we just weren't invited) and now it's back to Westminster to see if life has changed much for our MPs.
Some things haven't changed. After winning soundly in Colchester last week Bob Russell carried on proving his maverick credentials, so popular at the polls, by asking the prime minister difficult questions.
"If we are all in this together, what is he going to do about the obscenity of 1,000 multi-millionaires boosting their personal wealth by 18% in the past year?" he asked.
Mr Cameron promised to crack down on tax evasion.
Robin Hood parallels
Meanwhile Harlow's MP, Robert Halfon, attempted to sum up the coalition's achievements during prime minister's questions by referring to popular fiction:
"The story of Robin Hood has parallels with a government who are taxing bankers to build the big society, City fat cats to fund tax cuts for lower earners and oil barons to cut fuel prices."
The prime minister said he made "a good point" while amused journalists heading out of the chamber hummed the theme tune to the once popular TV series.
But behind the scenes all the talk is about the strength of the coalition and relations between the Conservatives and the Liberal Democrats.
Coalition relations
"It's all rather bizarre," says one of the region's senior Conservative MPs.
"In the ministries they're all getting on fine with each other and doing the job with no disagreement at all and then you open the paper the next morning and discover they've been attacking us.
"There's no way they're going to leave the coalition so I wish they'd just shut up and get on with it."
Many Conservatives are privately enjoying the discomfort of the Liberal Democrats and predicting further losses for them in next year's elections.
"I think we should be careful what we wish for," cautions another senior Conservative.
"If the Lib Dem vote collapses it is likely to go to us in the East but north of Birmingham it is likely to go to Labour. That could spell big problems for us in trying to get enough seats in order to form a government."
And in a week when Labour lose their health debate, we are hearing plans for reform are "bonkers".
That comment came from a Conservative loyalist.