Milly Dowler accused 'tried to abduct another girl'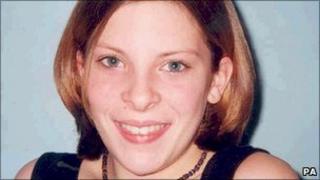 A student has described how she was left scared and crying after a man accused of murdering Milly Dowler tried to abduct her when she was aged 11.
Giving evidence in the Old Bailey trial of Levi Bellfield, Rachel Cowles, 21, said she was offered a lift in a red car in Shepperton, Surrey.
She was walking home from school in Upper Halliford Road at the time.
Bellfield, 42, denies abducting and murdering Milly and attempting to kidnap Ms Cowles in March of 2002.
The prosecution has alleged that he drove off after trying to abduct Ms Cowles when he saw a police car, and that he went on to murder 13-year-old Milly the next day.
'Rather chubby'
Ms Cowles told the court she had been walking alone when the car pulled up beside her with its window open.
She recalled how the driver leaned over to speak to her while the engine was still running, saying: "Hello. I have just moved in next door. Would you like a lift home?"
Ms Cowles said: "No thank you. It's all right."
She told jurors the man was white, aged in his 30s to 40s, and skin-headed or bald.
"His head was rather chubby. He had a gold hoop earring in his left ear," she said.
Asked if she had been comfortable with the man making that offer to her, she replied: "No."
She recalled how she had felt confused and decided to go home "to see if I could see his car and if he was telling the truth".
When she got there and looked around, there was no car. That was when she became scared as she realised "the enormity" of what had just happened, the court heard.
'Balding man'
Her mother rang the police, and she said she had burst into tears as she spoke to a policeman on the telephone, the trial was told.
Ms Cowles agreed that she had told the police on the phone that she could not describe the man.
The court heard police did not take a statement from her until three years later, when her mother wrote to the chief constable after watching a police appeal for a red car, suggesting possible links with Milly's death.
The court heard Ms Cowles failed to pick Bellfield out of a later identity parade.
Her mother, Diana Cowles, also gave evidence, denying that she or her daughter had been "prompted or influenced" by the report.
"No, I had already asked her what sort of car it was," Mrs Cowles said.
However, she agreed that she had told police on an earlier occasion that the man was balding and had a beard.
Milly disappeared on 21 March 2002 in Station Avenue, Walton-on-Thames, near where Bellfield lived in Collingwood Place.
The jury has been told she had just called her father to say she was on her way home.
Her remains were found six months later.
Bellfield, a former wheelclamper and club bouncer, was convicted at the Old Bailey in 2008 of attacks on women in west London over a period of about two years.
He was convicted of killing Marsha McDonnell, 19, in February 2003 and Amelie Delagrange, 22, in August 2004, by striking them on their heads with a blunt instrument.
In May 2004, he attempted to murder Kate Sheedy, 18, by deliberately running her over in a car.
The trial was adjourned to Monday.