Driving a wedge through détente in South Kirkby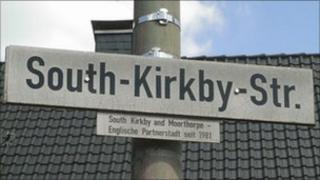 Take the main N51 highway into the German town of Sprockhoevel just south of Dortmund and you might not believe your eyes when you see the name plate at the side of the road.
You are on "South-Kirkby-Strasse".
South Kirkby is a tiny village 550 miles away in West Yorkshire.
It also happens to be the twin town of Sprockhoevel.
It does not require much detective work to understand why there have been warm links between these two little-known communities for more than 30 years.
A prized monument in Sprockhoevel is a former coal truck brought up from the bottom of the local coal mine which is now closed.
On an equally prominent spot alongside All Saints Church in South Kirkby is a magnificent bronze statue of a miner swinging a pick.
For hundreds of years both Sprockhoevel and South Kirkby earned their livings from coal.
That's why, in the 1980s, veteran local Labour councillor Laurie Harrison was an enthusiastic leader of the organising committee which linked up with Sprockhoevel.
He's now the leader of the South Kirkby and Moorfield Parish Council.
No dissenters
"For goodness sake, twinning is part of a European movement which has seen us be at peace for all these years," he told me over a cup of tea at the council offices.
So when £24m was spent on two new link roads from the nearby A1 to bring in investment for the now-flattened old colliery sites he knew exactly what he wanted to call them.
"I proposed to my council that we name them after our twin towns. Nobody else had put forward suggestions so my council agreed and we sent that to Wakefield Met."
The local planning authority, Wakefield Metropolitan District Council, agreed with no dissenters.
So one road was to become "Sprockhoeval Way".
The other would be named "Avenue Ledove" after South Kirkby's French twin town.
Notices announcing the move and asking for any formal objections were posted along the route of the new roads.
That is when it turned into a major row.
A strong local opposition group sprung up who do not want foreign names for their new roads.
Long-time opponents
I met couple of dozen of them gathered outside South Kirkby's church to discuss their objections and record interviews for the Yorkshire edition of the Politics Show.
They are demanding a "more local" name for the new roads.
Their suggestions range from something associated with the mining industry to a memorial for a local serviceman recently killed in Afghanistan.
It soon became apparent that a fair number of them are also long-time opponents of the twinning movement.
One told me it was little more than a chance for a foreign holiday for politicians from both sides of the Channel at the expense of local taxpayers.
But it is another twist in this tale that has got them even hotter under the collar.
'I was gobsmacked'
When 21 of them sent in their letters of objection they received replies from the clerk to the local magistrates' court and not the planning committee.
That is because under a little-known law which came into force 86 years ago, a local council's proposals for new street names have to be sent straight to a magistrates' court to be ratified.
Once that stage has been reached any objections also have to be considered by the court and not the local council.
As a result the written objections became formal legal appeals carrying the same costs as any court case.
"I was gobsmacked," leading objector and local independent councillor Wilf Benson told me.
"We have to pay £200 straight into the court then if our objections are overruled we could be liable for thousands in costs.
"It is diabolical and undemocratic."
There was plenty of nodding of heads and noisy agreement on that from the crowds of objectors.
Whim of politicians
A spokesperson at Wakefield Council told me that the procedures had been followed correctly: the magistrates' courts are an automatic legal consequence when the objectors appealed after the names had been considered and agreed by the planning committees.
The law was put in place by the great, great grandfathers of today's politicians.
They thought the naming of streets was too important to be left to the whim of mere politicians.
The magistrates' courts' duty is to ensure that the same name is not used twice in the same district so that fire engines and ambulances can be directed to the right place.
So a clause was inserted into the 1925 Public Health Act to give magistrates the responsibility of ratifying the local council's choice of a street name.
'Outbreak of xenophobia'
There is clearly some sympathy at the council that this old law has had to be dusted off.
I was given an assurance that if the objectors' case is overturned damages and costs will not be claimed.
But the objectors have been consulting their law books too.
They say that they now intend to use the 1972 Local Government Act to call a parish referendum which will have to be run and financed by Wakefield Council.
Back at South Kirkby's council offices, European Union flags are flying alongside the union jack and the St George's Cross.
Laurie Harrison says the row is nothing more than a local outbreak of xenophobia.
"I regret it has gone to court, I am all for open democracy, but I have already argued my case to the council.
"If they manage to get a referendum then I will argue the case again."