Severn Trent warns over low reservoir levels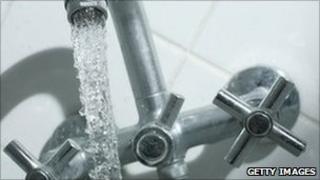 People are being urged to conserve water because reservoir levels are lower than they should be, water firm Severn Trent has said.
Levels across the region are about 10% lower than they would normally be at this time of year, it confirmed.
A spokesman said: "We are doing everything we can to actively manage the balance between our reservoir, river and groundwater supplies."
The firm said customers could help by taking showers not baths, for example.
Martin Kane, customer relations director at Severn Trent Water, said: "More rain isn't a popular idea but it is what we need, preferably spread over several days and weeks, so the reservoirs across the region can top up.
"The more steps we can all take now - both as a company and as individuals - the better placed our water supplies will be.
"Things you can do to help the situation include choosing showers rather than baths, fixing dripping taps, using the dishwasher only when full, and resisting the temptation to use a hosepipe or sprinkler on the garden or for washing the car."
Severn Trent serves more than eight million customers from the Bristol Channel to the Humber, and from mid-Wales to the East Midlands.