UKIP celebrates election success in Ramsey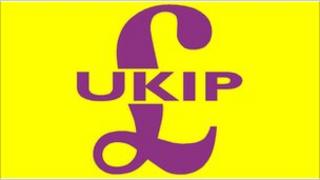 Earlier this week a sign appeared on the main road into the Cambridgeshire town of Ramsey. "Welcome to UKIP country," it read.
After years of hard work and determined campaigning, the UK Independence Party has just gained control of its first council in the country.
It may only be a town council but it's still an achievement.
Ramsey Town Council went to UKIP after the party won control of nine out of 17 seats in the local elections. Now it's responsible for running the community hall, the local play area and maintaining the town's footpaths.
The new town mayor Lisa Duffy (who ran UKIP's successful campaign in the Barnsley by-election earlier this year) said: "In Ramsey our candidates have shown just how relevant UKIP really are, not just in European elections but also in domestic and local elections.
"We were elected because we truly believe in giving power to local communities."
Hotbed of support
The party is promising to be a voice for the town and it's talking a lot about championing local issues. It has said that a large proportion of the town council budget will be spent on grants to voluntary organisations.
It is quite a leap forward for a party which only has three district councillors and a couple of county councillors across the East.
Ramsey has been a hotbed of UKIP support for some time. It is home to Peter Reeve, the party's first councillor in the East, and the county councillor has worked hard in the area to help the party win two district councillors on Huntingdonshire District Council.
Mr Reeve, who's now also a town councillor in Ramsey, said that the party's stance on immigration had won it support - but that the main reason people voted UKIP was because the party made an effort to be seen and to deal with people's local concerns.
"The Conservatives talk about localism, we are actually practicing it," he said. "We are a libertarian party in the centre ground of public opinion."
UKIP is keen to strengthen its presence in UK politics and show that it's more than just a one-issue party. Although it has many parish and town councillors, across the country it only has 23 district councillors.
In the grand scheme of things, winning Ramsey is small beer but for UKIP it is a significant win.