Stoke mother's fear over deaf education cuts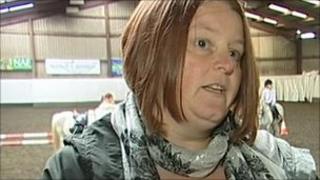 A mother is worried cuts in services to deaf children will affect her son's future.
Suzanne Pitchford, of Norton, Stoke-on-Trent, said the service was "stretched to the limit" after the council reduced the number of specialist posts.
The city council, which is making £21.6m savings following the government's Spending Review, said it had cut the number of "teachers of the deaf" posts from eight to five.
However, the National Deaf Children's Society (NDCS) claimed five posts were being cut, leaving three specialist teachers to help about 220 children. It said Stoke had seen the "harshest cuts" to services for deaf children in England.
Mrs Pitchford said the Stoke service had been "absolutely brilliant" in providing help for her five-year-old son Sam, who has hearing problems after being born with Goldenhar syndrome.
However, following the cuts, she said his teacher had been unable to attend routine appointments, where her expertise and support was essential.
Time struggle
Mrs Pitchford said: "She would attend appointments, she would try and support Samuel and check the hearing aids in his ears and check that he wore them at the correct levels and were maintained. And now unfortunately, she struggles to fit everyone in."
"And we're finding that even a simple thing such as a hospital appointment, she is having to back track and say 'I can't attend this hospital appointment because I have to rush off and see someone whose equipment has failed'."
Mrs Pitchford said she was also worried specialists would no longer be able to "pop into" Sam's school to see if he had any problems.
"Basically he's going to lose his ability in class," she said.
"His grades are going to slip down.
"The fact is he can't properly hear what is being said to him and he's only just getting used to his hearing aids."
The NDCS said that the specialist teachers were vital in helping deaf children develop their communication skills and follow lessons at school.
The NDCS has expressed concern about cuts to services for deaf children across England.
It said figures it obtained under the Freedom of Information Act suggested one in five councils were cutting such services in some way, including 28 local authorities which were cutting posts for teachers of the deaf.
The charity said the specialist teachers were vital in helping deaf children develop their communication skills and follow lessons at school.
NDSC chief executive Susan Daniels said it had called on the secretary of state to investigate and "explain why frontline services are being cut from budget he said would be protected".
'More integrated service'
The charity said last year 65% of deaf children in England failed to get five GCSEs, grades A to C, including maths and English. This compared to 34% of children who had no special educational needs.
Ms Daniels said: "The support being taken away is not an optional extra, it is absolutely crucial for deaf children's learning and development, particularly as they are already under achieving compared to other children.
"We are so alarmed about the longterm impact of these cuts that we will support families in legally challenging reductions to services their child receives."
The charity said the figures were higher for the West Midlands, where 74% of deaf children did not get five GCSEs at grades A to C (including maths and English).
In March, hundreds of people signed a petition calling for the cuts to services for deaf children in Stoke to be reversed.
Labour-controlled Stoke City Council said as part of the budget process, a restructure was taking place among staff who supported children with special educational needs and disabilities.
Under the plans, 30 posts in this area were being reformed into a team of 22.
Sharon Menghini, director of children and young people's services, said the changes would "provide a more integrated service for supporting deaf children in mainstream schools".
"This new team will include teachers and support staff who will support schools to ensure that all children with special needs and disabilities make good progress across the city and continue to build on the good work already taking place in this area by our staff," she said.