'Jobs are at risk' at Ineos by proposed green tax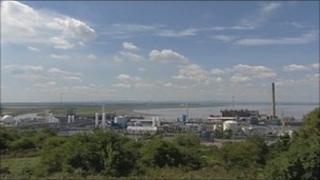 A chemical company has warned 1,000 jobs are at risk in Cheshire if the government presses ahead with plans to impose a so-called energy tax.
Under the plans, power generators using coal or gas to produce electricity would be forced to pay more per tonne of emissions, on top of EU levies.
Ineos, a major consumer of electricity, said the higher costs could force it to move production abroad from Runcorn.
It said it was a "significant issue" for UK energy intensive manufacturers.
That includes steel, aluminium and chemical sectors, said the firm, which makes chlorine.
In a worst case scenario, Ineos's energy bill could rise by as much as £30m a year by 2020, which would have a "considerable impact" on its ability to compete, the firm said.
'Discussions positive'
Ineos chief executive Chris Tane said: "The Runcorn site is very important to Ineos and we have invested more than £400m in the site to date to secure its future.
"Our business has weathered the economic downturn and has real potential for long-term growth and prosperity, however this can only be realised if we remain competitive, internationally."
He said Ineos and other energy intensive manufacturers were working with the government to ensure their needs were reflected in any legislation.
Mr Tane said: "The government is listening and discussions so far have been very positive.
"We are therefore hopeful that the legislation will provide support for energy intensive manufacturers as the UK moves towards a low carbon economy.
"This will be vital if we are to remain competitive versus other European and global manufacturers."