First Great Western optimistic about future of sleeper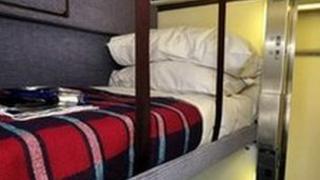 The train company which runs a sleeper train from Cornwall and Devon to London has said it is "optimistic" about the service's future.
First Great Western said passenger numbers had risen from 20,000 a year in 2007 to 30,000 a year now.
Six years ago the service was under threat after losing £1m a year but it was saved after thousands of people signed a petition to keep it.
In recent years £2m has been spent on it, including buying extra carriages.
Julian Crow, First Great Western regional manager, said: "I would be very optimistic about the sleeper.
"We agreed to run it within the franchise come what may.
'Sustainable travel'
"I feel that the sleeper has a secure part in the rail transport to and from Cornwall."
Malcolm Bell, from Visit Cornwall, said: "Maybe there's a demand to think about how you develop the sleeper's capacity.
"It's a low-carbon sustainable way to travel and it's an enjoyable way to travel.
"It does give everybody in Cornwall that link that they can go up to London overnight and be there in the morning for business."
The "Night Riviera" sleeper travels between Penzance and London six nights a week.
It leaves Penzance at about 2130, arriving at London Paddington at about 0530 the following morning.
It stops off at towns in Cornwall and Devon, including Plymouth and Exeter.
Last week First Great Western announced it had decided not to take up an option to extend its franchise by three years beyond March 2013.
Instead, the company is hoping to secure a longer franchise from the government.