Dr Dan Poulter MP: Doctor in the House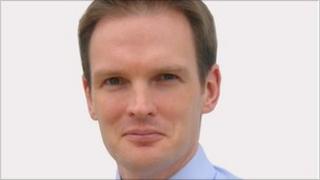 Dr Dan Poulter joined us last week to talk about health but at least one MP, it seems, is delighted that he is still practicing his medicine.
The Ipswich North and Central Suffolk MP's night of life-saving heroics began quietly enough.
He was enjoying a quiet soft drink, he tells me, at around 2130, when the House of Commons screens (which usually tell you which debates are on) flashed up a message calling for a doctor.
Apparently Guy Opperman, the MP for Hexham, had been taken ill in the House.
Classic symptoms
Dr Poulter went to the rescue.
"I had a look and it was clear he was not well. He'd had a terrible headache and had been sick.
"I realised it was possible he'd had a bleed on the brain, as these are classic symptoms, particularly with his background of headaches.
"He was actually feeling better and wanted to go home."
But that was against doctor's orders and Mr Opperman was taken to hospital where he underwent surgery after a brain tumour.
"Being a doctor, you just get on with it - that's what you're trained to do," says Dr Poulter.
"It's good having people with real skills in Parliament - quite literally."
I bet a grateful Mr Opperman couldn't have put it better.