Plea for water as rain shortage takes a toll on East's farmers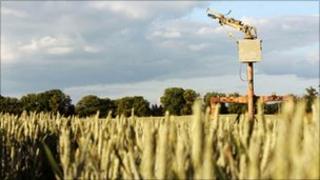 We might be enjoying the clement weather but our farmers are struggling to cope.
Suffolk has just seen its driest March for 50 years having had just 13% of its average rainfall this spring, according to Therese Coffey, who raised the matter in the House of Commons last night.
The growing problem of the dry weather was highlighted by the Suffolk Coastal MP who told the House: "Until this weekend no rain had fallen in my constituency since February.
"There is an impact not just on the price of a potato or an onion, but on the feed for our livestock because of a lack of forage and hay, which will have repercussions next winter. We will all pay a heavy price for that."
Rainfall shortage
We might have known that even the sunshine would cost us in the end...
Other MPs agreed with her. Geoffrey Clifton-Brown, the Conservative MP for the Cotswolds, predicted; "A shortage of production in this country for this harvest is likely to have a much greater effect on household bills than it has in the past."
Ms Coffey was asking the government to make it easier for farmers to be allowed to abstract water as many are worried they will soon have reached their limit.
Farming Minister and Cambridgeshire MP James Paice seemed to understand exactly how big an issue this is becoming. He is a farmer himself.
"The situation is very bad in our part of England - the East of England - but it is not yet a repetition of 1976, which has gone down in the annals of history as probably the worst ever event for farmers.
"Vegetable production is under pressure," he said.
"The picture on livestock farms is one of concern, mainly about costs, particularly following a prolonged winter but it is not yet one of panic."
He added that the forecast for the rest of May was not looking good for those who were hoping for rain and confirmed that the government was actively looking at ways to allow farmers to abstract more.
"It's not a crisis yet but ministers are aware that unless it does start to rain soon there could be major problem this summer on the region's farms."