Variable speed limits to tackle M1 congestion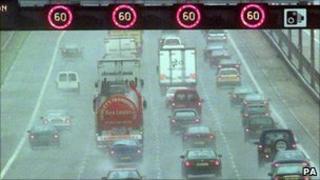 New variable mandatory speed limits are to be introduced on a stretch of the M1 between Nottinghamshire and Derbyshire in a bid to tackle congestion.
The Highways Agency said the system would allow it to manage traffic between junction 25, at Sandiacre, and junction 28, at Pinxton.
The controlled limits would be implemented during periods of peak congestion or following an accident.
Sensors on the road detect traffic flow to determine the best speed.
'Safer journeys'
The agency said the controlled system would reduce the level of stop-start traffic that leads to congestion.
The mandatory variable speed limits will be displayed on electronic signals on overhead gantries and will be in operation from 18 May.
Andrew Robinson-Morris, of the Highways Agency, said: "The construction work to widen the M1 between junctions 25 and 28 was delivered ahead of schedule, providing more capacity for road users earlier than planned.
"The controlled motorway system, installed as part of the widening scheme, will bring even greater benefits to drivers on this busy section of the M1 - helping to reduce congestion when needed and make drivers' journeys safer and more reliable by smoothing traffic flows."
The system is currently in operation on parts of the M25 and M42.