Beer duty: MPs want Osborne to help the brewers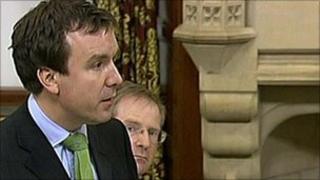 It's hardly surprising that the MP for 'the home of British brewing' should be urging the Chancellor to relax beer duty.
But the Conservative MP for Burton and Uttoxeter, Andrew Griffiths, is convinced his numbers make sense; that the beer duty escalator is an expensive way for the Government to raise money.
Significantly, more than 100 other MPs have agreed with him by signing his Parliamentary motion.
They argue that beer duty has risen by more than 50% since 2004, since when the beer market has declined by 8% with an estimated 25 pubs closing around the UK every week.
The British Beer and Pub Association say this explains why beer duty has delivered an increase of only 8% in revenues to the Exchequer over the past seven years, while the duty itself has risen by 7.5% this year alone.
They have written to the Chancellor, arguing that the beer and pub sector supports nearly 1m jobs across the UK.
The industry, they say, "has the potential to sustain and create thousands more jobs across the UK, generate economic activity and help lead the country out of recession. But only if we have a fair policy environment."
Beer 'made in Britain'
More that 85% of the beer sold in the UK is brewed here, so they are convinced that an easing of the duty would increase its yield and would help George Osborne's promise to grow the economy.
But his Budget last March offered them scant comfort. The 'business-friendly' incentives for new start-ups, enterprise zones, research and development and relaxations to planning rules were there as promised. But so too was the continuation of the beer duty escalator.
Lining up against the brewers there are of course some powerful arguments. The Beer and Pub Association recognise that the government has an over-riding responsibility to reduce the UK's budget deficit.
And then of course there is no shortage of well-rehearsed arguments about public health, 'binge drinking', 'lager louts' and obesity; though the licensed trade always goes to great lengths to explain that properly-managed pubs and clubs are not the problem here and that the real culprits are supermarkets offering cheap alcohol as 'loss leaders'.
But there is another fascination here for us politics watchers.
The Conservative Party has traditionally counted the brewing industry among its major corporate backers. So far at least, Mr Osborne has shown a marked reluctance to do them any special favours.
I shall be talking to the Conservative MP for Burton and Uttoxeter, Andrew Griffiths, live in the Politics Show studio this week starting at 12:00 BST on Sunday 22 May 2011. And of course I hope you will join us too.