Milly Dowler trial: Mother collapses at Old Bailey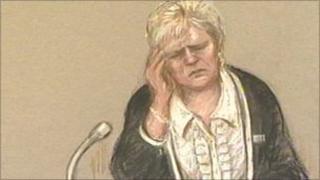 Milly Dowler's mother has collapsed after giving evidence in the trial of the man accused of murdering her 13-year-old daughter.
Sally Dowler had to be helped by two family liaison officers after taking the stand at the Old Bailey in London.
Levi Bellfield, 42, denies abducting and murdering Milly and attempting to kidnap another girl in March 2002.
Asked about notes in which Milly had said she was unhappy, Mrs Dowler told the court they were a "happy family".
Mrs Dowler sobbed when Jeffrey Samuels QC, defending, asked her about letters Milly wrote which suggested Gemma, 16, was the favoured daughter.
Once she regained her composure, Mrs Dowler replied: "I was not aware of that. I was shown the note and it was not true. She never said that to me."
'Nervous breakdown'
When she was asked about hidden poems and a "goodbye" letter that were found after Milly's disappearance, she said such notes were common among girls her age.
She also said she had spoken to Milly after the teenager found her husband's bondage material.
Mrs Dowler said: "I was shocked to find them there as well. She was upset.
"I shouted at him and we had an argument and he said he would remove them."
She told the court there had been no change in Milly's behaviour following the discovery, but was reminded that she had told officers of "a slight change for a while".
Mrs Dowler replied: "It was 10 years ago. It was really hard to recall it.
"Over the space of 10 years, I had a nervous breakdown and it is very difficult for me to recall it.
"If she had any problems, she would have come and talked to me about them. I think we had a good relationship."
Mrs Dowler told the jury she did not recognise the picture the poems and letter painted of Milly.
"I would not describe her as a dark and depressing person. There had been issues at school and there had been some issues of bullying.
"She found that upsetting," Mrs Dowler added.
She also told the court she drove herself crazy trying to remember everything that had happened on the day Milly disappeared.
Mrs Dowler said she thought she might have driven past her daughter standing with a group of boys but was not sure if she had got the dates right.
She said she had begged police to let her be hypnotised to try to recall what had happened.
"I was thinking over and over again, trying to remember the minutest detail," she said.
"I was driving myself mad. I can remember saying I need to be hypnotised in order to recall something.
"I didn't know if it was that afternoon. I had got so confused. I was so desperate."
Bob Dowler sobbed in court on Monday when he told the jury police informed him he was a suspect after his daughter disappeared.
Mr Dowler, an IT consultant, denied having anything to do with her disappearance and said he was concerned police were wasting time.
Milly disappeared on 21 March 2002 in Station Avenue, Walton-on-Thames, near where Bellfield lived in Collingwood Place.
Her remains were discovered six months later.
The trial has been adjourned until Wednesday.