Football clubs urged to pay more for policing matches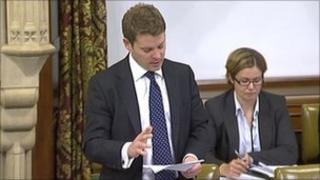 Premier League football clubs should pay more towards the cost of policing games, a Staffordshire MP has said.
Conservative MP for Cannock Chase Aidan Burley said as police funding is cut, top-flight clubs should make bigger contributions.
Clubs pay for policing inside and immediately outside grounds but forces cannot claim back what they spend on using extra officers for big matches.
West Midlands Police spent £2.2m policing the four top clubs in 2008-9.
Speaking at a debate at the House of Commons, Mr Burley revealed the figures which were obtained under the Freedom of Information Act.
He said last season West Midlands Police recouped £1.4m of the £2.2m it spent - but up to £722,232 of the cost of policing games was met by the taxpayer.
The force is looking to make a budget cut of £123m by 2014.
Large policing operations are put in place for certain games, including derby matches between Birmingham City and Aston Villa.
Last December, dozens were arrested and treated in hospital after a Carling Cup game between the two clubs.
At the debate, Mr Burley said the heavy police presence at such games costs more than flagship events like Wimbledon or rugby internationals at Twickenham.
He said: "The taxpayer is subsidising wealthy football clubs to the tune of millions of pounds a year and my simple question... is why?
"The idea the taxpayer pays for the adverse affect is what I'm challenging."
But a spokesman for the Premier League said clubs should not be singled out.
Dan Johnson said: "There are lots of events in big cities like Birmingham, be they at the NEC, be they party political conferences which come to Birmingham on numerous occasions and that's all paid for by the taxpayer.
"But I come back to the fundamental point that football is an industry and individuals who attend football matches have already paid for their policing."