Rape sentencing storm: Clarke now gets backing from MPs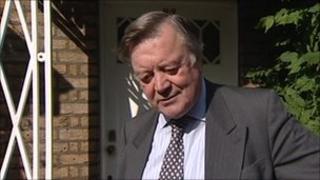 Rushcliffe's Kenneth Clarke is no stranger to being at the centre of a political firestorm. But the Justice Secretary won't have welcomed the heat generated by his remarks over sentencing policy for rape.
It strikes me there are two rules to political survival: clarity and timing. Those two key elements appeared to desert him as the row enveloped Westminster.
The trouble started as he tried to outline his department's latest thinking on giving rapists shorter sentences - if they plea guilty - to speed up the legal process.
Ken Clarke attempted to explain that rape victims wouldn't have to go through the trauma of giving evidence in a lengthy jury trail; or face robust cross-examination questioning from defence barristers.
Then the political storm erupted when he suggested different categories of rape would attract the equivalent of a 50% sentencing discount, on a guilty plea.
Wrong language
Ken Clarke will survive. But the policy muddle over such a sensitive area of sentencing and criminal law may take longer to sort...and still assure public opinion.
The thoughts of Broxtowe's Conservative MP Anna Soubry are worth noting. She's a former criminal barrister and a self-confessed Clarke fan, but believes this issue was badly handled. She's also a mainstream Tory, whose reaction is a good indicator of backbench opinion.
"He may have used the wrong language which offended people, but he is a man of total integrity and honesty," she said.
She told me the issue of rape and sentencing policy is a politically "difficult" subject.
"Rape is often very complex. There are different types of rapes and it's important to remember that prison sentences for rape starts at a minimum of five years, with the 'average' rape sentence set at eight years. More serious cases will attract a life sentence."
This is one of those serious crimes where the subtlety of sentencing policy may be lost in the glare of strident, hostile newspaper headlines and the concerns of public opinion. The next time Ken Clarke talks about rape sentencing, expect the timing and clarity will be must sharper.