Farming minister says badger cull 'may not happen'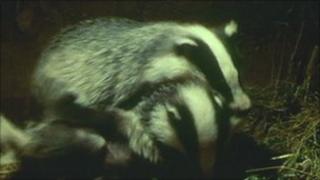 A badger cull to prevent the spread of bovine tuberculosis (TB) in cattle may not happen, the farming minister has told the BBC.
Badgers are blamed by many farmers for spreading the disease, resulting in thousands of cows being destroyed.
However, in an interview for the Politics Show South West, minister Jim Paice said there was a "question-mark at this moment" over a cull.
The government confirmed that a decision was still due to be made.
The South West, west of England and Wales are among the areas worst-affected by TB in Britain.
The Department for Environment, Food and Rural Affairs (Defra) said 6,863 cattle with TB were slaughtered in Devon in 2009, while in Cornwall the figure was 3,545.
'Judicial review'
The government was expected to announce in May whether a cull of badgers would go ahead, but it has been delayed.
Conservative Mr Paice said: "We will be making our announcements about it in the not-too-distant future once we're certain that, if we were to go ahead, we could resist the inevitable judicial review that would come."
When asked if he meant "if" as opposed to "when", Mr Paice replied: "There has to be a question-mark at this moment in time until we make a final decision and an announcement."
The National Farmers' Union approves of a cull, saying it was needed to help farming.
However, animal rights activists have criticised the proposals.
See the full interview with Jim Paice on the Politics Show South West, BBC One South West, Sunday 22 May, 1100 BST.