Devon and Cornwall fuel thefts at 70 per month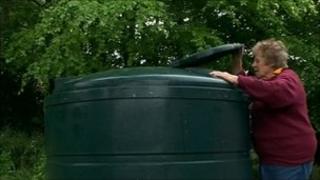 Thefts of fuel are running at a rate of about 70 a month in Devon and Cornwall, new police figures have revealed.
Diesel and petrol are the main targets by thieves as prices rise, but thefts of heating oil are an increasing problem.
In 2010, the most recent year for which there are records, there was a total of 836 thefts.
Devon and Cornwall Police have called on householders to install extra security.
Overall numbers of fuel thefts, which includes petrol, diesel and gas or propane fuel, are down from 1029 in 2007 to 836 in 2010, according to the figures.
But thefts of heating oil hit 110 cases in Devon and Cornwall in 2010, up from 37 in 2007.
Exmoor smallholder Caroline Gosling came back from her holiday to find all her heating oil, worth about £700, had been stolen.
She said: "I had had my oil tank filled up a week before I went away.
"I came back to a cold house because the heating had gone off through lack of oil.
"It made me rather cross because it was cold at the time."
Sgt Richard Crosby of Devon and Cornwall Police, said: "It is a difficult crime to detect because once you have taken the fuel it is difficult to differentiate it from other fuel.
"The key is prevention - using extra locks, security lighting, keeping oil tanks near houses and asking neighbours to keep a watch on your home."