Midlands Air Ambulance marks 20th birthday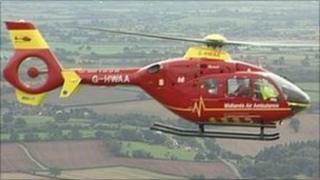 A helicopter will land at a rugby union stadium when Midlands Air Ambulance holds its 20th anniversary ball.
The event will take place at Worcester Warriors' Sixways Stadium on Saturday, 20 years after the charity completed its first airlift.
About 250 guests, including people who have been airlifted, are expected.
The service, which has three helicopters, needs to raise £6m per year to remain operational and does not receive government or lottery funding.
The service operates across Gloucestershire, Herefordshire, Shropshire, Staffordshire, the West Midlands and Worcestershire and responds to more than 3,000 calls each year.