Coe fuels Olympic Games excitement in Sussex and Surrey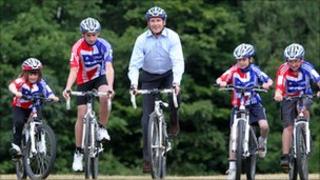 London 2012 chairman Lord Coe has visited Surrey and West Sussex as preparations for the Games continue.
He met schoolchildren in Box Hill, near Dorking, where a section of the Olympic road race will take place next summer.
The double Olympic 1500m champion then visited Tanbridge House School in Horsham, West Sussex.
Lord Coe marked the involvement of schools from across the county in the London 2012 education programme.
In Surrey, Lord Coe visited Weybridge, where he opened Cleves School's new sports centre.
'Feel the excitement'
At Box Hill, he met Austin Playfoot, who was a torchbearer for Surrey when the 1948 Olympic Games last came to London.
He also handed over host flags to Surrey County Council and the district and borough councils.
Lord Coe, who lives in Surrey, said he cycled and ran regularly at Box Hill and knew the area well.
"It was always part of our mission to take as much (of the Games) as we could outside of London but within striking distance of London," he said.
"This will be the money shot up here - we we obviously hope for a really nice day."
Councillor Denise Saliagopoulos, cabinet member for community services at the Tory-run council, said: "Seb's visit to Surrey highlights the important role that we have to play before, during and after the Olympic and Paralympic Games.
"We want the 2012 Games to inspire local people to get into sport, and hopefully, by showcasing the fantastic facilities that we have to offer through visits like this, we will be able to achieve that."
Lord Coe, who chairs the organising committee Locog, was joined by more than 200 schoolchildren in Horsham.
The pupils are involved in the Get Set programme, the London 2012 education programme for schools and colleges.
Talented young athletes demonstrated their skills in gymnastics, volleyball, judo, cycling and athletics.
Jules White, head teacher at Tanbridge House, said: "I am delighted that Tanbridge was chosen for such a prestigious event.
"The presence of Seb Coe has inspired so many students to become involved with the 2012 Olympics and beyond."