Paul O'Grady takes in lamb found dumped in bin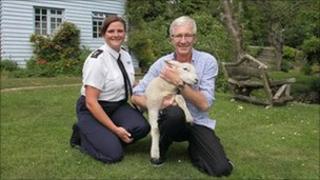 A lamb which was found dumped in a wheelie bin in Manchester has been taken in by TV presenter and comedian Paul O'Grady at his Kent home.
The lamb, named Winston by a newspaper reader, was discovered by district nurses Gillian Powell and Georgina Holmes in Levenshulme on 18 April.
Mr O'Grady heard about Winston's ordeal in the media and contacted the RSPCA, offering to re-home him.
He already has a small flock of sheep, along with several other animals.
Winston, who was just one month old when he was found in the bin, has received treatment for a slightly ulcerated eye.
'In his element'
He was cared for by a fosterer, who had to bottle feed him, before being taken to Mr O'Grady's property on 17 May by RSPCA inspector Caroline Hall.
Mr O'Grady, also known for his alter-ego Lily Savage, said: "The RSPCA has done a wonderful job.
"Winston is a big, strong, healthy boy now - nothing like the state he was in when they found him.
"He's skipping around and has got his own barn so he is very happy.
"He's very friendly and loves human company. He's in his element."
The RSPCA is still appealing for information about those who dumped him in the bin.
Ms Hall said: "We still need to find out who was behind Winston being dumped, but it's so nice to see him gambolling around in his new home.
"We are very grateful to Paul and his animal care staff for helping to give Winston such a great new start in life after his unhappy beginnings.
"We'd also like to thank the lamb's fosterer who has done such a good job of caring for him until he moved to his permanent home."