East Coast train shake-up to include Flying Scotsman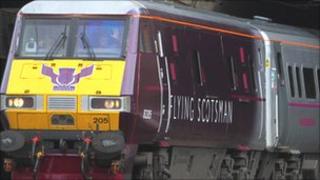 A new express "Flying Scotsman" service between Edinburgh and London with a stop at Newcastle has been launched.
The new service is part of a shake-up of the East Coast timetable which includes 19 new services each week day.
The train operator said the changes were the biggest service shake-up in 20 years and would provide 3m extra seats a year on routes.
The Flying Scotsman will leave Edinburgh each week day at 0540 and arrive at King's Cross at 0940.
East Coast Managing Director Karen Boswell said: "East Coast's fantastic new locomotive and service writes an exciting new chapter in the 149-year history of the Flying Scotsman.
"It's part of our policy of bringing back train names and restoring pride, passion and even a touch of glamour and romance back to the East Coast railway."
There will also be improvements to services for Northumberland trains and 11 non-stop services a day between York and London.