Thimblemill cemetery vandal Jason Griffiths jailed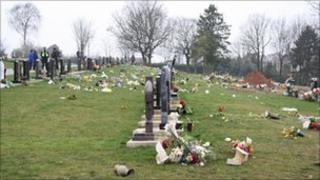 A vandal who caused an estimated £100,000 worth of damage to gravestones in a West Midlands cemetery has been jailed for four years.
Jason Griffiths, 40, admitted criminal damage for desecrating headstones in Thimblemill cemetery, Smethwick.
He had just been released from a prison in Oxfordshire when he embarked on his drug and drink-fuelled wrecking spree on 2 March.
A Wolverhampton Crown Court judge said Griffiths had caused great heartache.
The vandal, whose last known address was given as Cowley Road in Oxford, had been obsessed with smashing gravestones and laughed when he was arrested, the court heard.
He has a string of convictions for dishonesty, violence, and public order breaches and has been sentenced at least 70 times before.