Whiston Hospital 'privatisation' concerns discussed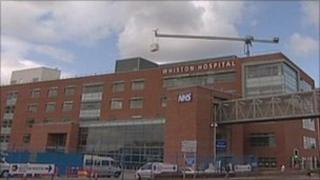 Concerns a Merseyside hospital could be privatised will be discussed at two public meetings this week.
Labour MP for St Helens, Dave Watts, said last month he had seen documents on Whiston Hospital being handed over to the private sector.
Unions and community groups have begun a campaign against the move, which St Helens and Knowsley Hospital NHS Trust has said is not on the agenda.
Meetings will be held on Tuesday in Whiston and Wednesday in St Helens.
The first will be held at the Robert Foulkes Centre in Brook Street and the second at St Helens Town Hall.
'Question marks'
Whiston Hospital recently underwent a £250m rebuild funded via a private finance initiative (PFI).
Mr Watts said he had seen documents listing three options to balance the books at the hospital.
These were a £20m cash injection, merging with a neighbouring hospital and transferring to a private firm.
He said Trafford General Hospital could also be privatised, which has been confirmed by Trafford Healthcare NHS Trust.
Unison Regional Organiser, Andrew Rutherford, said: "Despite management assurances that there is no threat to privatise both hospitals, local politicians have been informed by ministers in the department of health, that plans are in place to privatise as one of a number of options.
"Only last week the Prime Minister speaking in the house of commons stated that there were no plans to privatise parts of the NHS, clearly the threat hanging over Whiston and St Helens places questions marks over his statement."
St Helens and Knowsley Hospital NHS Trust said at the time it was drawing up plans to achieve foundation status by 2014 in line with government policy, but that those plans did not include developing a relationship with the private sector.