Milly Dowler: Surrey flat 'murder scene' redecorated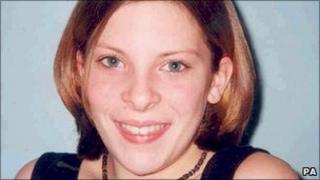 A flat where Milly Dowler is alleged to have been killed had been redecorated by the time police investigated her murder, the Old Bailey has heard.
Levi Bellfield, who denies murder, and his partner moved out of the flat in Walton-on-Thames, Surrey, within days of Milly disappearing in March 2002.
The court heard they had not been due to move out of Collingwood Place for two months under a tenancy agreement.
Bellfield, 43, is accused of murdering Milly in his flat and dumping her body.
The remains of the 13-year-old were found six months after she disappeared, in woods in Yateley Heath, Hampshire.
'Filthy carpets'
Letting agent Carmen Lippold told the court Emma Mills and her two children by Bellfield were living in the ground-floor, two-bedroom flat after a separation.
She said neighbours later complained about an extra car blocking their garages and parking spaces, and she assumed Bellfield was living with them because someone had also told her a dog was being kept in the flat.
After being unable to contact Miss Mills, the flat was entered on 28 May 2002.
Miss Lippold told the jury: "It was very dirty. The carpets were filthy. She had also left toys and quite a lot of furniture.
"It was obvious no-one had been living there for some time."
Landlord Stephen Cooper said he had spent more than £900 to have the mouldy walls and ceilings repainted and the carpets steam cleaned.
The Old Bailey was told that by the time police investigated the apartment there had been two further tenants.
Bellfield denies abducting and murdering Milly and attempting to kidnap Rachel Cowles, aged 11, in March 2002.
The trial has heard how the teenager disappeared "in the blink of an eye" after leaving Walton-on-Thames station and beginning her walk home along Station Avenue.
The prosecution alleges Bellfield was living yards away.
The former wheelclamper and bouncer was convicted in 2008 of murdering Marsha McDonnell, 19, Amelie Delagrange, 22, and attempting to murder Kate Sheedy, 18.
The trial was adjourned to Wednesday.