Devon and Somerset bid for Taunton fire control room fails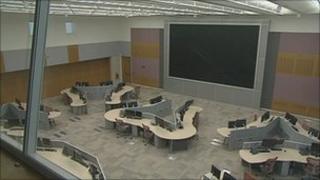 Negotiations between Devon and Somerset Fire Authority and the government over taking possession of a regional fire centre have broken down.
The building in Taunton, which was commissioned by the Labour government in 2005, was scrapped by the Coalition government in December.
The fire authority put a bid together to move in but an "acceptable" rate for the building could not be agreed.
Union leaders said the project was "one bungled disaster after another".
Under the original plans the control centre would have replaced the counties' five control rooms with a single facility.
The building was equipped but never became operational.
'Pass the buck'
Mark Healey, chairman of Devon and Somerset Fire Authority, said it had been negotiating with the government.
He said: "Originally it was for six fire and rescue services over the South West which were going to join forces and divide the cost by six.
"As from late Tuesday our negotiations [with the Department of Communities and Local Government] were not agreeable.
"At this moment in time we won't be moving in.
"As a single service we could take on the [rent of] £750,000 per year - the service could not afford that."
Tam MacFarlane, from the Fire Brigades Union, said it had told the management "from day one" the project would not work.
"This has just become one bungled disaster after another," he said.
"We've waited for eight years for a so-called modern system.
"Now we find these politicians are still scrabbling to pass the buck to each other.
"It's time the government faced up to its responsibilities and put some proper investment into Devon and Somerset Fire and Rescue Service."
A Department of Communities and Local Government spokesman said it believed the regional fire centre "wasn't delivering".
He added: "We are currently analysing responses to a consultation on the future of fire and rescue control services and will not be in a position to confirm any future control service-related funding priorities and allocations until this is concluded."
The Taunton centre was intended to be one of nine regional sites in a £423m scheme to replace 46 fire control centres in England.
It would have been in charge of dispatching fire crews in Devon and Somerset, Dorset, Avon and Somerset, Cornwall, Wiltshire and Gloucestershire brigade areas.