Labour leader Ed Miliband weds partner in rural Nottinghamshire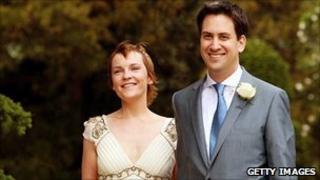 No wedding bells and slightly windswept, but a kiss - Ed Miliband and his new bride Justine Thorton were all smiles.
It was a long walk from their reception venue to meet photographers. But what do you ask a political leader who's just got married?
So I asked the happy couple that old standby: "How are you feeling?"
"This is the happiest day of my life," said the Labour leader.
Family affair
The venue was Langar Hall, a smart hideaway in the south Nottinghamshire countryside.
Earlier, the media had staked out the hall's entrance looking for familiar Labour Party faces. No sign.
The vast majority of the 50 or so guests were family, many Justine's relatives from the south Nottinghamshire and West Bridgford areas, where she was brought up and educated.
Ed's brother David arrived with his wife Louise and their children. He opened his window to greet reporters.
"Hello everyone. It's going to be a lovely day," he said.
It was. You can't beat a wedding.
Politics takes back seat
After the 25 minute civil ceremony inside, the couple emerged with the first opportunity for reporters to see Justine's wedding dress.
It was British designed: a cream, empire outfit by renowned designer Alice Temperley. His was a blue, grey suit from Aquascutum.
The couple wanted to make their special day at Langar Hall very much an occasion for family and close friends. For today, politics took a back seat.
The owner of Langar Hall, Imogen Scriving, was particularly overjoyed. She had to keep "mum" about the wedding arrangements for so long.
"They just look so happy, don't they? The dress was gorgeous. It's just been a fantastic and wonderful day. So exciting. I thoroughly enjoyed every minute of it," she told me.
They wanted a low key ceremony.
There wasn't even a best man's speech from brother David - that was down to the newly married couple themselves.
Next stop, a five day honeymoon, somewhere warmer and hopefully less breezy than rural Nottinghamshire.