Crewe postal service is worst in mainland UK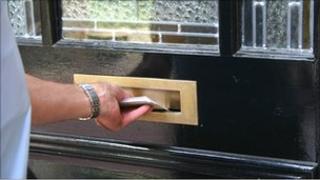 Crewe has the worst postal service in mainland Britain, according to figures released by Royal Mail.
An average of 85.4% of first-class post was delivered the following day in the CW postcode area - the national average is 93%.
Royal Mail said its modernisation programme was partly to blame for the poor performance.
The published figures relate to postal deliveries between March 2010 and March this year.
'Cost-cutting'
Last year the town's sorting office was moved to Warrington and there was a switch from on-foot deliveries to using vehicles.
Sean Pender, from the Stoke-on-Trent branch of the Communication Workers Union, said moving the sorting offices was definitely affecting deliveries.
"Their [Royal Mail] concern seems to be cost-cutting and what they're doing now is absorbing a lot of work into other offices."
Rachel Letts, who sells bouncy castles in south Cheshire, said that initially she had to find an alternative when her mail was not delivered on time.
"Because some houses were so close to us, we thought we might as well hand deliver it because it's going to get there a lot quicker."
'Valuable lessons'
Ed Whitby, from ice cream van makers Whitby Morrison, said: "We're a small business and the delays in payments, cheques, everything coming through, it really does affect us in a big way."
Steve Selby from Royal Mail apologised for the poor performance, but said the service had improved.
"Crewe was at the very forefront of the change in the company nationally.
"We've learnt some valuable lessons that we've now applied in the dozens of revisions that we've now put in the North West and are working very successfully."
Only the remote Scottish island regions of Hebrides and Lerwick had worse figures than Crewe.