Kent's fishing communities thrown lifeline on fish quotas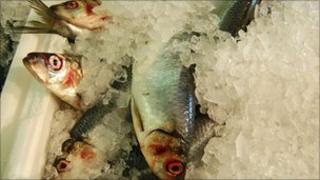 It's rare that hard-pressed fishing communities have much to celebrate but small boat fishing fleets in Kent and Sussex have been thrown a lifeline.
A committee of MPs has said they were "shocked" to discover that the Department for Environment, Food and Rural Affairs (Defra) did not monitor the individual holding of quota in England.
Under the current system, fishing quota may be held by "slipper skippers": inactive or retired fishermen, or even organisations which have have little or no connection to the fishing industry - including football clubs - who merely trade it as a commodity.
The report recommends that small boat fleets should be allocated a much bigger proportion of fishing quotas.
Community identity
Rye, Hastings and Eastbourne all have fleets with small boats - mainly under 10 metres. The mainstay of their catch is plaice, cod, bass and turbot.
Many smaller boats also fish for scallops, whelks, and crabs.
Boat owners say they suffer from not having enough quota and believe it's absolutely crucial that the fishing industry is recognised for its full importance.
They say it's not simply about the catch - it's also about community identity. The industry attracts visitors and tourism, and is a big part of the local culture.
The changes will also be welcomed in Kent's fishing ports including in Whitstable, Ramsgate, Dover and Folkestone.
They've welcomed the report which calls for an increase in the fishing quotas - a move which could see a doubling of the amount of fish they are allowed to catch.
They're also calling for Defra to reduce the numbers of fish thrown away, known as discards.
And they say the department must ensure the interests of the inshore fleet are represented in the next round of reforms.
Listening to fisherman
The local MP for Hastings Amber Rudd has welcomed the report's findings. She says she wants to make sure that Defra makes the right changes to support our fishing communities.
Fishermen in Hastings are also pleased, they say, that after 30 years of campaigning the government finally appears to have listened to them.
But they say simply listening is not enough. They want the report's recommendations to be implemented as soon as possible - before next year's quotas are set - in order to help the fleet survive and stop more fishermen going out of business.