Autopsy table stolen from Kent hospital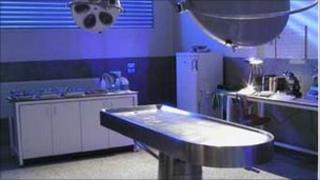 An autopsy table and defibrillators were just some of the items reported stolen by hospitals in Kent and Sussex.
Equipment stolen from the Maidstone and Kent and Sussex hospitals included a security camera, a toilet seat and a car park ticket machine.
East Sussex Hospitals reported £14,784 worth of equipment lost or taken in 2009-10 including a £6,000 patient monitor and lead from a hospital roof.
The hospitals were responding to a BBC Freedom of Information (FOI) request.
Computers, oil and pillows
The Maidstone and Tunbridge Wells NHS Trust reported property worth £18,850 as stolen or lost between June 2004 and January 2011.
Gail Spinks, from the trust, said: "The trust runs three hospital sites and equipment is frequently moved between these sites.
"Occasionally equipment is not tracked to the right destination and becomes 'missing' though still on trust premises."
Since 2004, the trust has recorded the theft of 27 computers and laptops from its hospitals.
Brighton and Sussex University Hospitals reported the thefts of a £500 fetal aid monitor, computer hard drives and £900 worth of heating oil in the 2009-10 financial year.
The autopsy table was stolen from the East Kent Hospitals which also reported thefts of computers, CD and DVD players and pillows.