Travellers' eviction at Dale Farm moves closer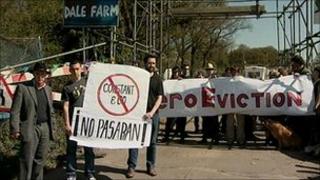 The eviction of the travellers from the Dale Farm site near Basildon has moved a step closer, following the announcement by the government that it will pay more than £4.5m towards costs.
Dale Farm is the UK's largest illegal site. Half of the pitches there have no planning permission.
The travellers say they will fight the eviction. They claim hundreds of supporters have pledged to create a human shield to keep the bailiffs out.
It's more than two months since the local council voted to evict those residents of the Dale Farm site who live on the pitches without planning permission but the travellers are still waiting.
The reason for the delay? The cost of the operation. Originally it was put at £9.3m, so receiving half from the government will not nearly cover the cost of the operation.
A 'delicate stage'
Basildon and Billericay MP, John Baron (Con), has been lobbying hard in Parliament for the funding and he seems confident that more might be forthcoming.
"Negotiations are continuing," he revealed. "I am hopeful. Positive avenues are being explored next week. Talks are at a delicate stage but we're making good progress.
"It is only fair and proper that the law be enforced and the government have now come round to that view. The law courts have agreed that we are right. No one wants the misery of forced eviction but we are talking about what's the law."
Any eviction at Dale Farm will be on an unprecedented scale but if Mr Baron's confidence is to believed, the deadlock may soon be broken and that day may be about to dawn.