MP Gareth Johnson condemns IVF 'postcode lottery'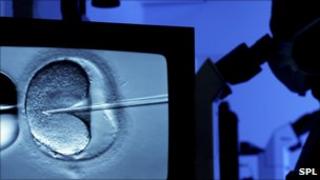 Women who struggle to conceive naturally often turn to IVF for help.
Since the first test-tube baby Louise Brown was born in 1978 the number of babies born following IVF treatment has increased steadily.
But now the MP for Dartford Gareth Johnson has criticised the so-called postcode lottery facing couples who want IVF.
Gareth Johnson, who's chairman of the Parliamentary Group on Infertility says that although the National Institute for Health and Clinical Excellence (NICE) recommends women between the age of 23 and 39 should be offered three free cycles of IVF, 73% of Primary Care Trusts fail to follow the guidelines.
In the South East primary care trusts offer a maximum of two cycles of IVF on the NHS.
But IVF is an expensive business. Each cycle costs the NHS between £3,000 and £5,000. If a patient chooses to seek treatment privately a cycle can cost up to £8,000.
Budget pressure
Mr Johnson was particularly critical of the fact that some health trusts, including West Sussex, Medway and West Kent, actually asked GPs to delay referring couples between November 2010 and March 2011 for financial reasons.
Critics say that delay can put an increased strain on couples trying to start a family.
In a statement NHS West Sussex said: "In line with NHS trusts across the country, we did have to face some tough decisions last year to ensure that we met our legal duty to break-even financially.
"Inevitably that meant prioritising spending to support health services which are relied on by those with the most serious health needs, and as a result one of the decisions was to suspend IVF treatment in West Sussex until the new financial year."
The Health Minister Anne Milton said she's concerned that a small number of trusts with historical funding problems temporarily suspended provision of IVF services. She's calling for them to follow NICE guidelines, which she says are unambiguous.
But there's no doubt that IVF does raise a difficult issue for the NHS.
At a time when budgets are under ever-increasing pressure just how does the NHS decide which services are essential and which can be cut?