Warwickshire child sex offender Thomas Parker remains in France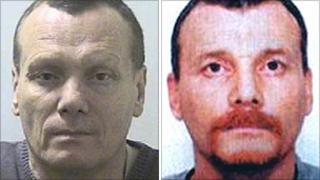 A child sex offender from the UK, arrested with his twin brother in France, will remain there for the time being, police have said.
Thomas and Kenneth Parker were arrested in April after being suspected of breaching the requirements of the sex offenders register.
Warwickshire Police said Thomas Parker has since been given a 10-months jail term for an assault while in France.
Kenneth Parker was brought back to the UK on Friday by Sussex Police.
He appeared before Hastings magistrates on Saturday charged with breaching the notification order.
He was remanded in custody and is due to appear before the same court in July.
Warwickshire Police said Thomas Parker remains in France awaiting extradition back to the UK.
The men had their details published on the Child Exploitation and Online Protection Centre (CEOP) most wanted website.
Police said the pair have links to the Sussex and Warwickshire areas. Thomas Parker's address is given as Nuneaton, Warwickshire.